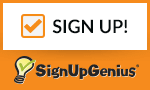 Click the button above to sign-up for hosting the gallery. At this time, we are only open from 2 – 5 pm daily. Only June and July calendars reflect these times. We will reasses later and see if we need to delete the 11 – 2 slot for August.
Sign-up Genuis does work better if you create a log-in for yourself. Once you log-in, you can "trade" slots with others as well as delete yourself if you have an issue at the last minute.
In order to conform to new rules regarding COVID-19, everyone must have new training before you can host. Contact Manny for more information.